KARACHI: On October 5, the local authority issued a statement asking for a review of the new Gala biscuit advertisement featuring Mehwish Hayat. Based on a song and a dance routine, the advertisement was declared violating the 'accepted standards of decency' and 'socio-cultural norms of Pakistani society.'
Local authorities have lately been closely monitoring the kind of content that is being made available to the audience. Pakistan Electronic Media Regulatory Authority (PEMRA), which recently asked for the content of TV dramas to meet a particular standard, has now issued a notice against TV commercials.
"It has been observed with concerns that themes/content of advertisements of ordinary consumer products like biscuits, surf etc. being aired on satellite TV channels are not corresponding with the disposition of these products. The trend is causing/promoting unrest and behavioural disturbance among the viewers being not only in violation of the commonly accepted standards of decency but also socio-cultural norms of Pakistani society," read the statement.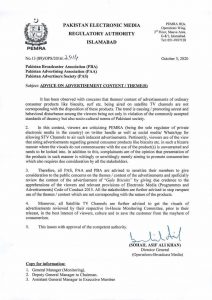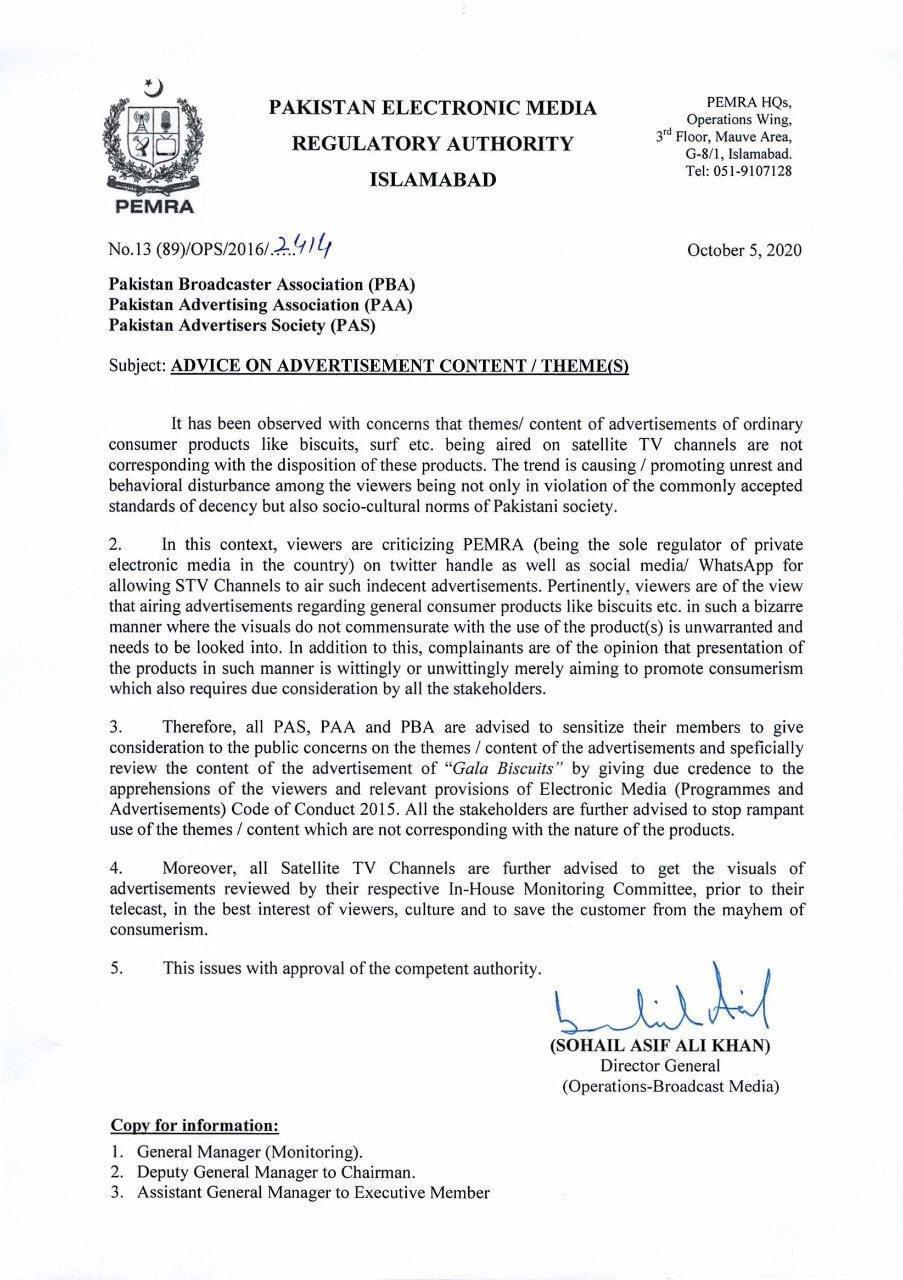 It further stated that "all PAS, PAA and PBA are advised to sensitize their members to give consideration to the public concerns on the themes/content of the advertisements, specifically review the content of the advertisement of "Gala Biscuits" by giving due credence to the apprehensions of the viewers and relevant provisions of Electronic Media (Programmes and Advertisements) Code of Conduct 2015. All stakeholders are further advised to stop rampant use of themes/content not corresponding with the nature of the products. Moreover, all satellite TV channels are advised to get the visuals of advertisements reviewed by their respective in-house monitoring committee prior to their telecast, in the best interest of viewers, culture and to save the customer from the mayhem of consumerism."
A few users on Twitter also seem to agree with PEMRA and have claimed that the Gala biscuit ad goes against the values of our society and focuses little on the product itself.
Others, however, have expressed their concern over local authorities regulating a simple advertisement featuring Mehwish Hayat when much bigger problems prevail in the country.