The Lahore High Court (LHC) has commuted the death sentence of Muhammad Iqbal, a juvenile offender who has been imprisoned for nearly 20 years.
In a landmark judgement, the LHC allowed the petition filed by Justice Project Pakistan and commuted Iqbal's death sentence to life imprisonment, stated a press release by the JPP.

The judgement reads:
"….firstly the international legislation and secondly our domestic legislation impose a clear ban on the infliction of death penalty on an accused under the age of eighteen years, thus, the claim of the petitioner to seek benefit which otherwise, was fully available to him under the policy, having the force of law, could not have been denied…."
"Iqbal's hanging would have been a terrible travesty of justice. While the past cannot be undone, the honourable high court has – quite literally – given him a new lease on life," said the counsel, Advocate Ahmed Hassan Khan. "Iqbal has already spent the duration of a life sentence in jail and I hope this verdict paves the way for his release." 
The court also established that in cases like Iqbal where the juvenility of the offender is not in question, matters of commutation are not required to be referred to the Presidency.
Iqbal was 17 when he was arrested along with four other accused in 1998 for fatally shooting a man in Mandi Bahauddin. The following year he was sentenced to death under the Anti-Terrorism Act (ATA) even though an ossification test confirmed his age to be 17 at the time of the alleged offence. 
According to JPP, "the trial was marred by glaring holes in the prosecution, discrepancies in eyewitness testimonies, and evidence of torture." Despite his age, Iqbal was the only one to be handed the death penalty while the other co-accused were all only sentenced to 10 years and have already been released.
In 2004, the victim's family forgave Iqbal and withdrew their petition, but Anti-Terrorism Court, Gujranwala refused to accept this due to the non-compoundable nature of the offence. The high court then confirmed his death sentence in 2006 and the Supreme Court consequently rejected his appeal in 2007. 
A death warrant was issued scheduling his execution on March 30, 2016 only to be stayed after his review petition was filed in the Supreme Court.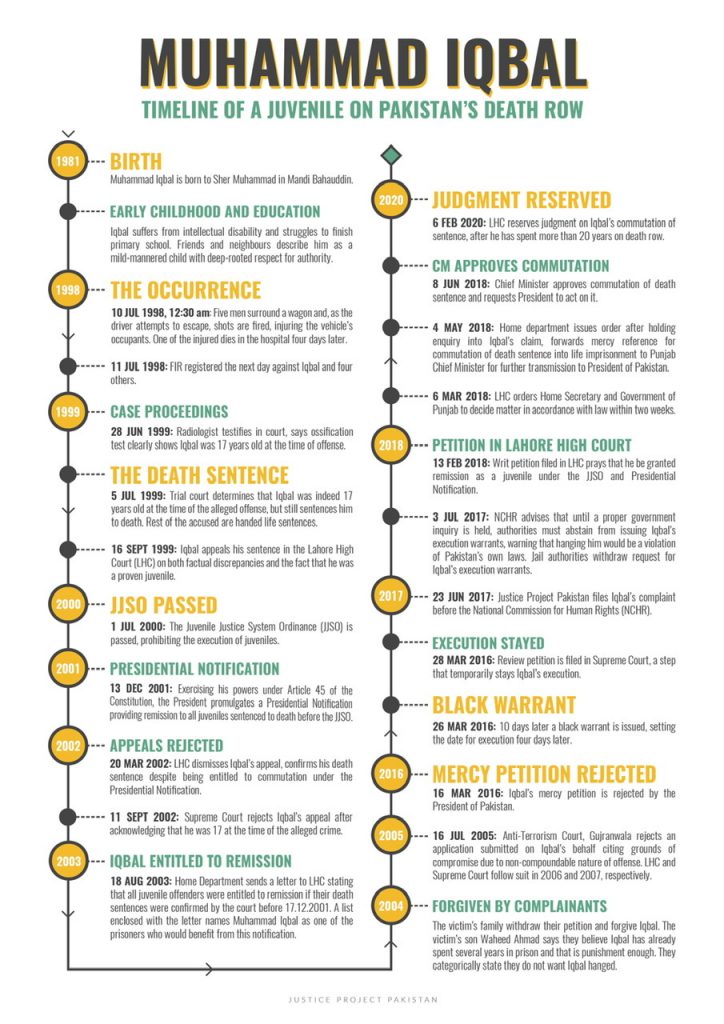 Sarah Belal, Executive Director of Justice Project Pakistan, said: "Finally, it is the Lahore High Court that has lifted the sword unjustly hanging over Muhammad Iqbal for so long. A teenager should never have spent over 20 years on death row, to begin with. It is appalling that it took so long for Iqbal's sentence to be commuted, at times bringing him within days of his execution. This judgement will set the right precedent in line with the Juvenile Justice System Act and the UN Convention on the Rights of the Child."