KARACHI: Through a statement on their social media platforms, fashion label Sana Safinaz has cleared the air regarding co-founder Sana Hashwani's health.
On social media, a story has been doing rounds that claims that Sana Hashwani returned from London and attended parties which resulted in 3, 4 other people being infected. The posts claimed that her daughter also tested positive for the virus and images of an unknown girl on a ventilator, which wasn't Sana or her daughter, were also circulating with these posts.
The brand's official statement puts all these rumours to rest and announces that Sana does not have the illness, nor did she pass it on to other people.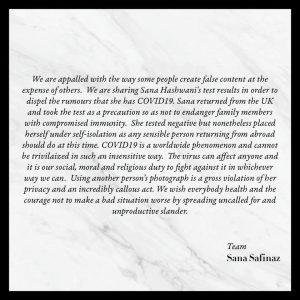 The brand went one step further and posted her test results online as well.