KARACHI: It's a Monday evening, and Rehman* is lying down on his dorm bed. He stealthily stares at his phone at what seems to be a website showing two shirtless men engaging in a playful fistfight; all the while keeping an eye on his roommate to make sure he isn't looking in his direction. The top-left of this web page reads "Grindr", a smartphone application, claiming to be the world's largest gay social network. Any doubts he may have had about creating a profile were cleared after reading an encouraging message on the homepage: "Download it now. Don't be shy … we like to be used".
He waits as the downloading progresses, occasionally stroking his beard; drops of sweat begin accumulating on his fingertips, leaving patches of moisture on his mobile phone screen. On its completion, the app's drop-down menu provides its latest user with profile suggestions of other users in close proximity. To Rehman's utmost surprise, the first suggestion is that of his roommate's Grindr profile.
Under section 377 (unnatural offences) of Pakistan's Penal Code, it is illegal to voluntarily have "carnal intercourse" with any man, woman, or animal; doing so is punishable with imprisonment up to 10 years.
Despite this, technology has managed to bridge the gap between members of Pakistan's gay community seeking to engage in intimate relationships.
"I definitely feel less claustrophobic after joining Grindr," says Rehman, 22, who now openly identifies as gay. "There are no gay bars where you can meet people so at least technology solves this problem," he further adds matter-of-factly.
In June 2016, VICE set out to explore the underground 'gay scene' in Pakistan with its Blackout Series. Not only was the documentary able to unearth the existence of this subculture, it also managed to identify its exclusivity. According to the World Bank's World Development Report (2016), 83% of Pakistan's total population was found to be offline. This means only a certain demographic of the country has access to gay-focused apps and websites.
In contrast, research data compiled by the Naz Male Health Alliance (NMHA), a Lahore-based organisation working for the rights of Pakistan's LGBTQ community, shows that 'Manjam,' a gay social networking website, had the most active number of users from Pakistan. The website was later banned by the Pakistan Telecommunication Authority (PTA).
While technology is increasingly providing a platform to achieve sexual freedom in Pakistan, the shroud of anonymity these apps allow their users to maintain is also problematic for local users. In 2014, a man was arrested in Lahore for killing homosexual men he met online, as reported by Dawn. The then 28-year old paramedic confessed to discovering the underground homosexual community after he made a profile on a 'popular' social networking website.
For Kamran*, 26, a Karachi-based banker who identifies as bisexual, security is not the only drawback of using Grindr. "I removed my account from Grindr in March this year," says Kamran, trying his best not to make eye contact. "I was definitely getting to go on dates through Grindr but somehow it was all superficial," he adds. After meeting about a dozen boys who were only looking for a 'one-night stand', Haq realised he was better off not using it at all.
'Manjam,' a gay social networking website, had the most active number of users from Pakistan before it was banned
On the other hand, Jamshed* feels that the digital age has created more "respectful" possibilities for those embracing their sexual inclination towards the same sex. Jamshed parted ways with his family approximately three decades ago when there was a dearth of opportunities to score a date with a person of the same sex in the country.
"I would go to Empress Market and subtly flirt with shopkeepers," he recalls with an apparent grin. "Sometimes it resulted in hookups but other times I would end up getting beaten up by groups of offended men," he says.
Not only is it a crime in the eyes of the law, but there is also an air of general condemnation towards homosexuality in Pakistan. In spite of this, in 2013, the Pew Research Center found Pakistan to be the world leader for Google searches of the terms 'shemale sex', 'teen anal sex' and 'man fucking man'.
In a country where homosexuality is shunned as a mental disorder or a Euro-centric identity, it is also important to take into account the local narrative. What is overlooked is Pakistan's own version of 'gay cruising' that exists in the form of londay-bazi, a local term for someone casually engaging in homosexual activity.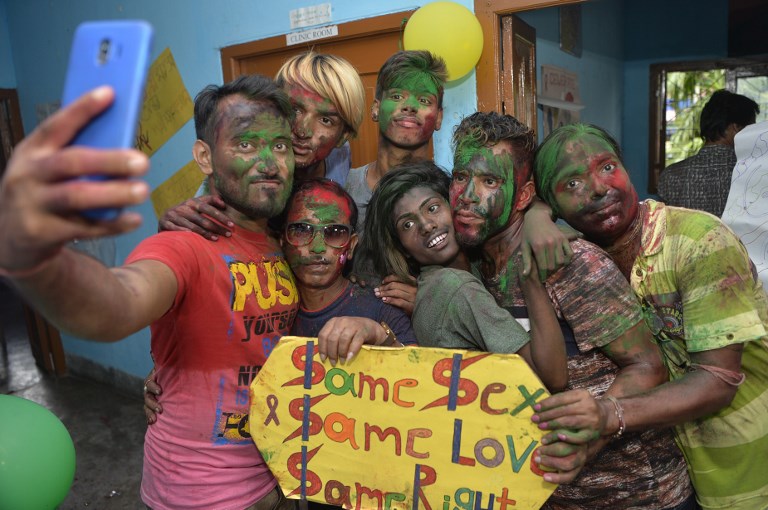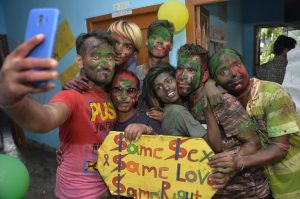 In criticism aimed at gay-social networking apps and websites, Qasim Iqbal, executive director of NMHA, holds that these apps only serve their privileged, upper-class users. "You don't need technology to openly embrace your sexuality in Pakistan," says Iqbal, "all you need is money and status," he adds after a brief pause.
A year on, Rehman and his roommate sit in an upscale café in Karachi. From a distance, they seem like two average young men sipping on their cappuccinos. In November this year, they will have completed nine months of a committed relationship with each other; and they credit nothing other than technology for bringing them together.
*Names have been changed to protect identity