KARACHI: An ordinary man in Pakistan has left people and the music community astounded with his mesmerising vocals after his video went viral on social media earlier this month. Muhammad Arif works as a painter in houses as a daily wage-worker but having listened to his singing, it will be apt to say his true calling is in the music industry of our country. After going viral, Arif was invited by singer Aima Baig to perform at her concert on Independence Day. Now, famous Indian singer Sonu Nigam has also posted about the 'paint-wala' singer and his capabilities.
"[Arif] has already become extremely famous in India too. Little taleem [music education] and he'll become someone whom people will vouch for," Sonu said on his Facebook profile. "God bless him. God willing he'll be getting his due musically henceforth.. Hope you are good.. Lots of love and prayers," Sonu Nigam added about the 'paint-wala' singer.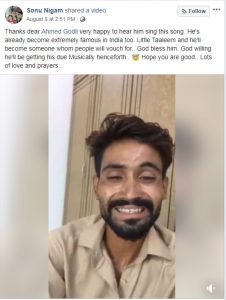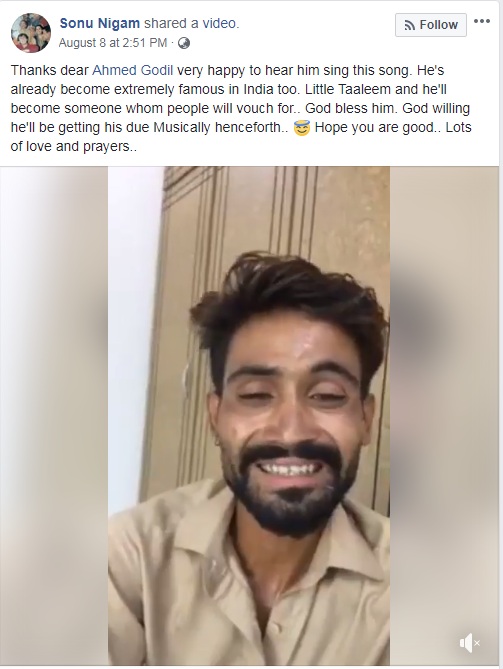 Arif came to the limelight when he was painting a wall in a house and someone asked him to sing for a video. The painter sang a few titles of famous Bollywood movies and within hours, his video went viral and reached millions of views.
Afterwards, he was called in by a private TV channel and suddenly he was famous. "I had never expected that I would be this famous and be televised live because of my singing," he said on the show. "I was working at someone's house when the owner, Akbar, came up and asked me to sing because he liked my voice. He made the video and it went viral. It was also very surprising for me," he added.