KARACHI: Hadiqa Kiani is one of the most powerful vocalists that Pakistan has produced. Known for singing in multiple languages, the singer has tapped into various genres of music and impressed global audiences. However, one particular song by Kiani seems to be a fan favourite, specially for audiences across the border. Originally sung and released by Hadiqa Kiani in 1998, 'Buhe Bariyan' is the first Punjabi song by the singer. Many of us know the lyrics by heart and so it is easy to recognise the song from miles away. But to the disappointment of the singer, this particular track of hers has been stolen by Indian artists time and again.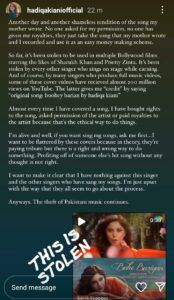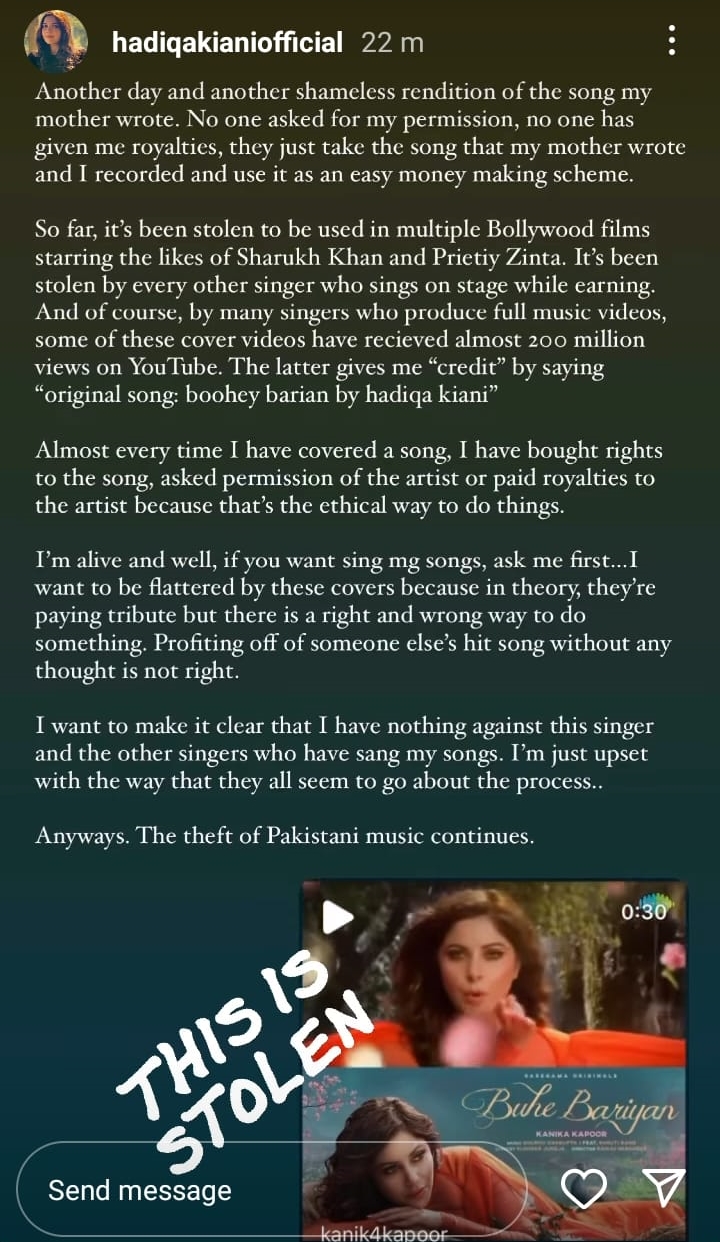 On April 28, Hadiqa Kiani took to Instagram to point out that 'Buhe Bariyan' has been picked up by an Indian singer yet again, who failed to give credits to the original artist. "Another day and another shameless rendition of the song of my mother wrote. No one asked for my permission, no one has given me royalties they just take the song my mother wrote and I recorded and use it as an easy money making scheme," the singer called out Indian artists for stealing her work without permission.
Kanika Kapoor's rendition may be the most recent addition to the list but Kiani reminded her followers how this is not the first time that the song has been plagiarised. "So far, it's been stolen to be used in multiple Bollywood films starring the likes of Shahrukh Khan and Preity Zinta. It's been stolen by every other singer who sings on stage while earning. And of course, by many singers who produce full music videos, some of these cover videos have received almost 200 million views on YouTube." Kiani also shared how some of these videos later give her credit by writing "original song: Buhe Bariyan by Hadiqa Kiani".
 

 

View this post on Instagram

 
Kiani also reminded her readers how she always buys rights to a song before covering it, asks for permission from the original artist or given them royalties since that is the ethical way of doing things.
"I am alive and well, if you want to sing my songs, ask me first," Kiani called out fellow singers. "Profiting off of someone else's hit song without any thought is not right." She also revealed that she has nothing against Kanika Kapoor or the other singers who have covered her songs previously. "I'm just upset with the way they all seem to go about the process," Kiani expressed her disappointment.