KARACHI: Amazon Prime released the first season of Mirzapur in 2018 after which fans impatiently waited for the second season. Set to come out on 23rd October, 2020, the series had the audience talking about it way before it hit the screens. While the characters of the show have become a part of the popular culture, viewers were specially keen on finding out what becomes of Guddu and Munna in Mirzapur season 2.
If you have not watched the second season yet, you might want to come back here later. But if you have binge-watched the series already, keep reading!
It has strong female characters
It is no secret that the show has a talented cast, but the characters are equally empowering, specially the women. While much of the narrative revolves around men who are not afraid to die or to kill, the women in Mirzapur 2 are equally fierce. They are strong headed, they do not shy away and they find the courage within themselves to seek revenge on their own. Isha Talwar plays the role of Madhuri who is a widow but does not let this title become her identity. Instead, she uses her widowhood to keep her father's seat secure. Golu, played by Shweta Tripathi, becomes the perfect representation of 'don't mess with a woman who cuts her hair'. Adamant on seeking revenge for Bablu and Sweety, Golu dresses in loose clothes like a man's and is not afraid to shoot men who speak too much.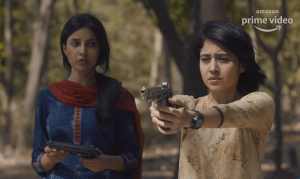 It addresses erectile dysfunction
The brilliant Pankaj Tripathi plays the role of Kaleen Bhaiya and it becomes apparent in the first season that he is not very good in bed. However, in season 2, he builds up the courage to consult a doctor regarding his erectile dysfunction. While he does make his bodyguard pretend to be the patient instead of him, acknowledging and seeking treatment for erectile dysfunction in a South Asian society is still a pretty big step.
It addresses casteism 
The caste system in India has been around for generations and remains one of the biggest source of discrimination in the country. The protagonists and antagonists of Mirzapur 2 all belong to the upper castes but no one expected them to be called out for their discriminatory behaviour. One of the most pleasantly surprising scenes in the series comes when Maurya directly calls out Kaleen Bhaiya and his family for serving him food in a different plate while the Tripathis eat in plates of gold.
With a talented cast, intelligent script and brilliant direction, Mirzapur 2 has managed to live up to the expectations of its fans who are now eagerly waiting for another season.