KARACHI: Bollywood actors have been tweeting against the current government of India for being xenophobic and creating divisions within the population. This has happened due to recent events, such as the Jamia row where students of the Jamia Millia Islamia University were brutally attacked by the police for protesting the controversial Citizenship Amendment Act. The controversial bill offers amnesty to non-Muslim illegal immigrants from three neighbouring countries: Pakistan, Bangladesh and Afghanistan. The reason why the bill is controversial is that it seems like an attempt to marginalize Muslims as citizenship should not be made based on faith.
Aljazeera reported that over 100 citizens were injured by the police during the protests.
The viral video was almost the last straw for some celebrities who finally took to their social media accounts to speak up against the administration. Bollywood celebrities such as Huma Qureshi, Pareeniti Chopra, Siddharth Malhotra and Riteish Deshmukh were some of the names who voiced their concerns and urged Indians to fight for what is right.
Director Anurag Kashyap, famous for his film Gangs of Wasseypur, was one of the few to take a very bold stance against the government.
Student Of The Year actor Sidharth Malhotra stated that a democratic country like India should have more tolerance for its citizens.
Rang De Basanti actor Siddharth Suryanarayan, passionately expressed in a series of tweets how he finds the current administration fascist and a force that is set on division rather than unity.
He further tweeted against the Citizenship Amendment Act by commenting on Union Home Minister Amit Shah's statement and asking him, "Why cant you just be honest for once and accept what you are doing Amit Shah? Tell us your real plan."
Other Bollywood celebrities have also made their views on the Citizen Amendment Bill (CAB) clear via their Twitter accounts, with some calling the decision unfair to democracy and the treatment of the protesters barbaric.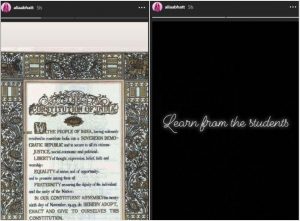 While appreciating the actors on speaking up against the CAB, some users on Twitter are wondering why other veteran actors in Bollywood did not do so.