KARACHI: The newest trend to have gone viral, #10YearChallenge has everyone sharing photos of their past and present life. Most internet users including international and local celebrities such as Tyra Banks, Jessica Biel, Armeena Rana Khan and even cricketer Shadab Khan among many others also took to social media, to share pictures of their transformation and how their lives have changed –for the better – in the last decade.
While for many, it can be a fun way to ring in the new year and see how far they've come, for some, it can bring back painful memories.
Read:How I killed obesity before it killed me
One of the reasons why someone would like to participate in the challenge is if they've been marginalised in the past. For example, someone in their 20s would not like to recall they were bullied in high school 10 years ago. The same could be said for survivors of abuse who wouldn't want to bring back painful times from the past. So while the new year can be an exciting time for some , it's important to realise that it can also be anxiety-inducing for others.
Srishti Dixit from Buzzfeed India revealed that she would not be partaking in the #10YearChallenge because it is a time that she would never want to visit. In an Instagram story, she wrote, "No, I am not doing the #TenYearChallenge because I was in my first ever relationship at the time. It was abusive and I had the worst relationship with my body and I was self-harming. I would just like to not visit that time."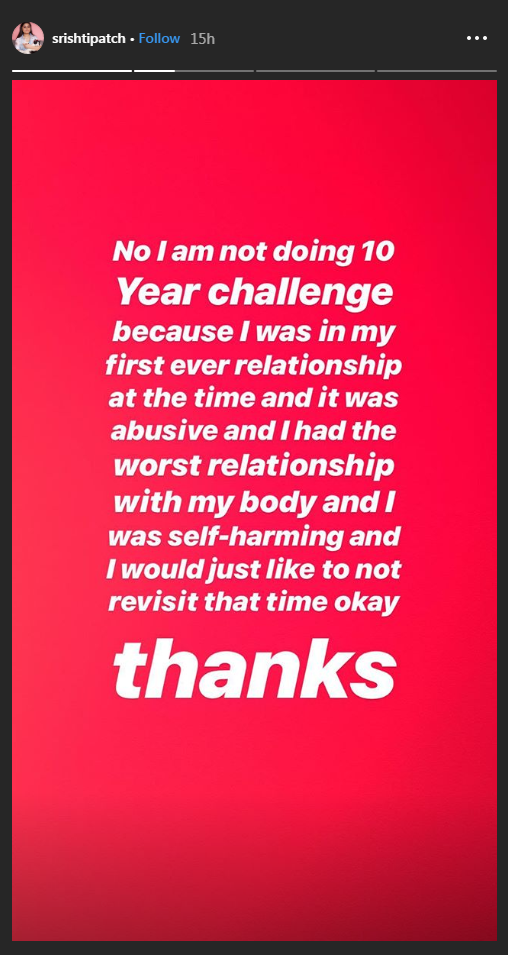 The #10YearChallenge could also not be very helpful for the trans community. While there are many trans people from over a decade ago, a lot of them only came out after rights of transgender persons came into the limelight. They might feel extremely uncomfortable sharing their photos from a time that they didn't feel like themselves or were going through hardships. Considering the number of trolls online, it's also highly likely that they would get subjected to online abuse and bullying if they shared pictures of themselves from their past and present lives. Some, however, used this to empower themselves, such as Caitlyn Jenner.
With such challenges and memes in full swing, it's important to realise and respect people who choose to opt out of such trends for their own safety.