It happened. After so many months of waiting and diligently (and sometimes not so diligently) applying for jobs, the offer came. And then suddenly all the free time she had and despised, seemed so precious. It was a classic case of the "grass is always greener on the other side."  How typical.
Due to stringent labour laws, she was given a few more weeks at home before starting full time. Ah, the wonders of working from home. Sitting on the couch, taking a lunch break to watch Netflix, sitting in her pyjamas, and maybe even sneaking in a little nap.
There was a lot to miss, but a lot to look forward to as well. For starters, the salary.  She missed seeing that SMS come in at the end of each month alerting her to the salary being deposited into her account. The ability to contribute to the household, and on a completely shallow level, purchase some nonsensical item she didn't even need. She was also deeply looking forward to more adult, human conversations during the week. Speaking to a cat day in and day out, while enjoyable, wasn't very productive.
Then the official day arrived. Waking up earlier than usual, like a kid on the first day of school, she changed and prepared her items needed for office life. Mug, sweater, spoons – a bag filled up enough to look like she was about to move in.
She arrived at reception and announced herself, as if she was the most important person to ever start at this company. She was promptly told to wait.  Humming and hawing to herself as she saw her new colleagues pour into the office without a single glance in her direction, an HR employee finally emerged.
One induction after another and she was finally brought to her desk. Uninterested hellos and introductions ensued. Not exactly the friendly and cooperative environment that was presented to her at the final interview.  Finally, her actual manager appeared and gave a perfunctory introduction to the rest of the team. They sat down together, in a very brief meeting, and she was presented with a handful of documents to go over to familiarize herself with the company, and what was to be expected from her position. And then she was alone.
Everyone seemed absorbed in their own work, or their own gossip to give her any attention or assistance. Lunch time came and went without an invitation to join, and finally she went down to grab a sandwich and sit on her phone. It wasn't the first day she had expected.
Not to get down so easily based on one day of experience, she woke up refreshed and ready to take on the second day with a new fervour. Instead of waiting for people to approach her, she would start the conversations. However, the second day seemed even worse than the first.  It seemed most people were out of the office, and those who were, didn't have time to entertain non-work conversations.
The rest of the week dragged on to a similar capacity, with the week ending even worse. Overhearing a bunch of colleagues discussing post-work drinks, she lingered, hoping for an invite. No such invite came her way.
Confused and dejected, she began the weekend on a low. She was left clueless as to how to spark up any work friendships, until her husband smartly suggested bringing in a baked good.  That was the key to everyone's (well, unless they are dieting) heart. She spent first day deciding what to bring – something special, as well as universally liked. Cookies, brownies – they were just too typical and people could assume she made them from a box. Which she would never do.
After some time, it came to her. Tres leches. A classic. She went to work and made it as presentable as possible.
Monday morning came and she walked in prepared. Everyone looked dreary at the thought of another week ahead. She sent around an email introducing herself, and her famous tres leches cake.  She spun a tale on the fights it has resolved, and the love it has blossomed. As the day went by, slowly at first and then as word went around as to how delicious it was, more people came. They were delighted by her email describing the cake, and absolutely loved the cake.
As lunch time rolled around, she was asked to lunch by a few colleagues and suddenly, work was not as painful anymore.

Tres Leches

This is one of my absolute favourite desserts, and when it is done right, it is GOOD.  I used to be quite scared of it (in terms of making it), but this recipe is as easy as it can get.  The mixture of the three milks is what makes it divine, and the longer you can soak it, the better.  I always love drizzling more of the "tres leches sauce" on the plate for an added extra indulgent taste.

1 cup flour
1 ½ teaspoons baking powder
¼ teaspoon salt
5 large eggs, separated
1 cup granulated sugar
⅓ cup milk
1 teaspoon vanilla
1 can evaporated milk (12 ounce)
1 can sweetened condensed milk (14 ounce)
¼ cup milk
Whipping cream + 2-3 tablespoons of sugar – for topping
Cocoa – for topping
Strawberries (or other fruit) – for the topping


1. Preheat oven to 180 Celsius. Lightly spray a 9×13 (or something similar in size) baking pan
2. In a bowl, combine flour, baking powder and salt.
3. Separate the eggs into two different bowls
4. Add ¾ cup of sugar to the egg yolks and mix on high speed until yolks are pale yellow. Then add the ⅓ cup of milk, and vanilla and combine. Pour this in the flour mixture and mix gently.  Until just combined.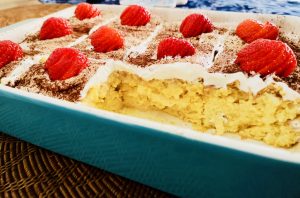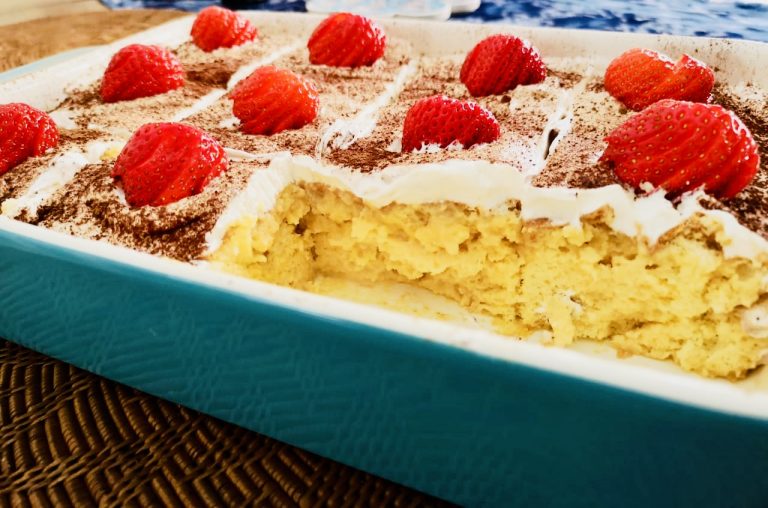 5. Then beat the egg whites on high, gradually adding ¼ cup of sugar until you get stiff peaks. (so you can hold the bowl upside down, and it doesn't fall out).
6. Fold the egg whites into the batter, gently. Pour into pan and bake for 25 to 35 minutes. To test, put a toothpick in and make sure the cake comes out clean.
7. While cooling, make the sauce by combining all the three milks (condensed, evaporated and milk). Once cooled, poke holes through the cake using a fork or toothpick. Then pour in the sauce and let this rest in the fridge for at least 2 hours, or as long as overnight. (The longer the better).
8. Closer to the time to serve, whip the cream with sugar and spread on top. Just a thin layer and sprinkle some cocoa powder on top. If you want, you can chop up some strawberries and put them on as an added flavour to complement the cake. Enjoy!

This is part of a series that is updated weekly.
For the full story, you can visit the author's personal website here