KARACHI: Henna has long been part of South Asia's culture. And it's no longer just restricted to brides and weddings. Founder, Sara's Henna — an international henna brand — Sara Mush has taken the art to a whole new level across the globe. She has even gone as far as henna-ing men and members of royal families. Originally a Pakistani, the former TEDx speaker was born and raised in Hong Kong and moved to Karachi only recently. We got in touch with Sara to get an insight into her journey and find out what makes henna so special.
How long have you been doing henna art?
Since I was seven.
How and when did you start?
I started by watching my mother apply henna on brides. She used to do it using a toothpick, so I just picked it up from her and started doodling.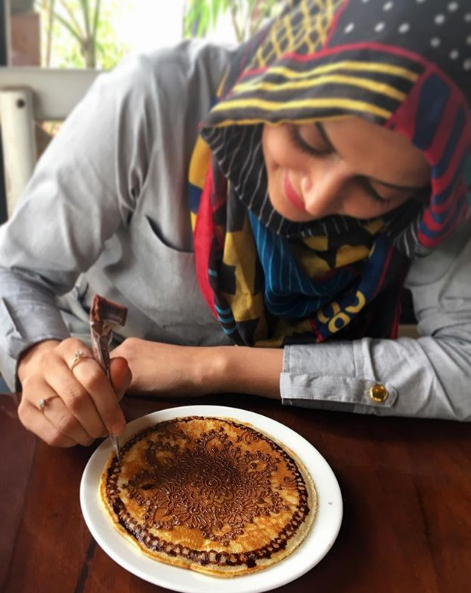 How did you convert henna into art?
I started my business in Hong Kong. Over there, henna is considered art. People look at it as a cultural art form and because I was exposed to models and those who wanted to get it done on various parts of their bodies, not just the hands, I was able to create a lot of elaborate henna pieces that translated more into art than your traditional mehendi.
Tell us your experience of henna-ing members of royal families.
While I was living in Dubai, and after I had launched white henna there, I randomly got a call from the queen of Ajman, and I literally thought it was a prank. The lady said she would like to make an appointment. I asked who she was and she said she was the queen's assistant.
I laughed and asked if it was a joke. But it wasn't. It was incredible. Driving into their palace, this massive, huge mansion in Ajman. The queen made me wait for four hours. Of course, I charged her for that time. She was actually really humble, very down to earth. I wasn't expecting that. She loved the henna and treated me really well. When I left, she had a present for me that they put in my car. They loaded my car with beautiful boxes of date from their own date farms. These weren't just any old dates; they were amazing. She gave me around seven to 10 boxes. It was insane and a really interesting experience for sure.
Do people opt for henna over tattoos?
Actually, henna is a very good way to try out a tattoo and this is a package that I have been offering in Hong Kong this whole time, as well as around the world. What happens is, if someone has a design in mind that they would like for a real tattoo, they would send me the design or I would create one for them. And they would get one or two trials done in henna before they go and get it done in real ink.
Sometimes, they love the henna so much that they decide to get a new henna tattoo monthly instead of going for an actual tattoo. Other times, though, if they like the trial and placement of the henna, I give them a final design that they can then convert into a tattoo.
We know you do henna for cancer patients as therapy. Do you believe tattoos work in the same way?
The henna I do for cancer patients is definitely therapeutic. It boosts their self-esteem. I don't know if I feel whether tattoos work in the same way. But for sure, I mean it's all about your self image and what you want to portray and how you want to portray yourself. So in a way, tattoos would work in the same way.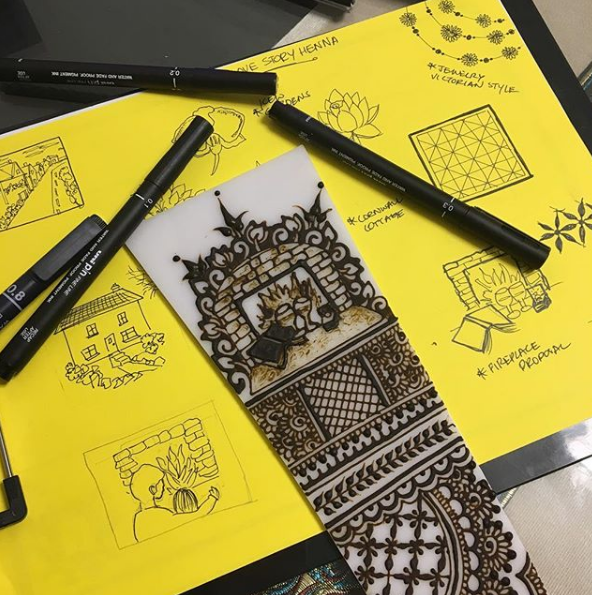 If you were to get a tattoo, where and what would you get?
If I were to get one, which actually I am meaning to for quite sometime now, I would get it at the back of my neck and it's a design that I drew up while I was traveling around the states. I went to 29 cities in 40 days and it was one of the most life-changing experiences. I drew that design while on my travels. It's a very small henna style design. If I were ever to get a tattoo, that's what I would get done.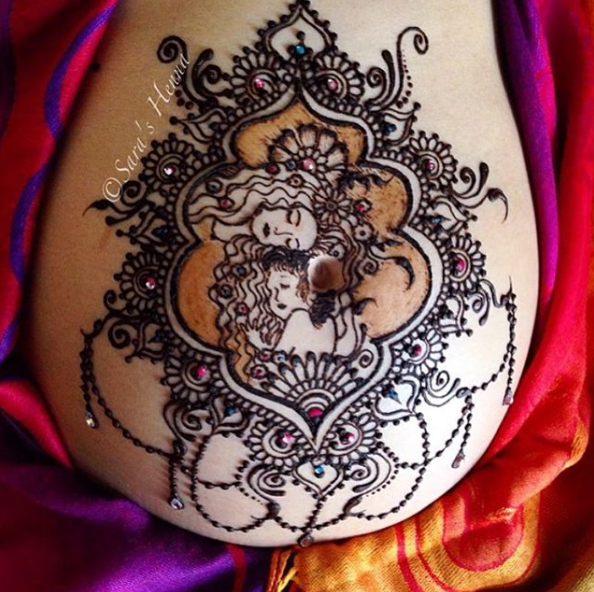 What are some of the common meaningful henna designs people ask to get?
Generally, people are inclined to getting aesthetically pleasing designs. It's only in bridal henna that my clients request for meaningful patterns. We do things that are symbolic to the couple and landmarks. I do a lot of gods and goddesses, lotus flowers, peacocks — icons that are symbolic in the Indian culture.
Tattoos are gender neutral. Have you encountered men who are interested in henna?
I've done henna for guys, a lot. In Hong Kong as well as the UK. Certainly, there are loads of men interested in henna. In fact in India, a majority of the best henna artists are males and their henna is unlike any other that I've seen before. In one of the fairs in Hong Kong, there was a 60-year-old man who turned up on a Harley-Davidson with a massive leather jacket. He was an old dude and wanted a henna dragon on his arm. He got this really cool full arm henna dragon done. Definitely, memorable. There are men out there who love henna.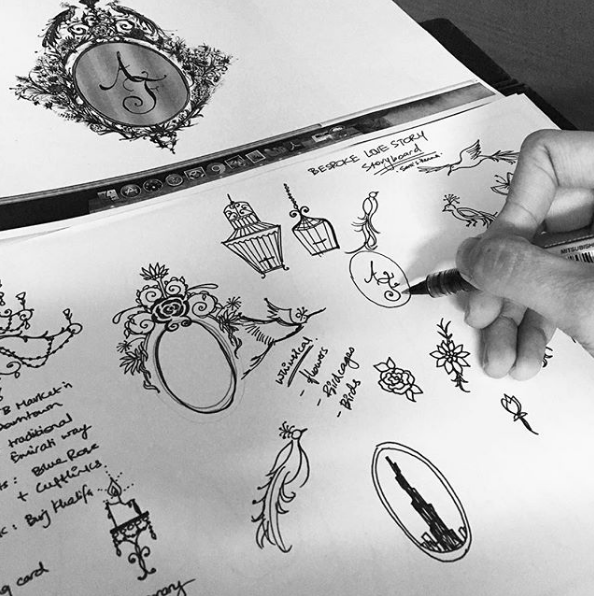 You're the pioneer of white henna and love story henna. Walk us through the process.
In Hong Kong, there was a lot of demand for henna by a lot of my western clients. They really liked the idea of henna but somehow didn't want the brown colour for their wedding because they didn't want it to last for three weeks. That's when I started white henna. At that point, it was literally just body paint put into henna cones and I did some beautiful designs for them on their wedding day. However, when I moved and expanded my business in Dubai, I created a form of white henna that was more permanent. So, body art is literally just for one day, it washes off. The white henna I created was waterproof and would last for two to three days. Also, the way white henna looks on middle eastern skin colour, was so striking, that's when the fad actually took off. I did white henna art for Huda Beauty, and just her snapping and instagraming about it created an entire craze. As for the love story henna, I started it about five years ago now. I was henna-ing my bhabi (cousin's wife), and she gave me complete, free reign over the design. I knew their whole love story and how cute the whole thing was, I wanted to create that for her as something special. Once I posted photos about it, it went viral. It just took off from there.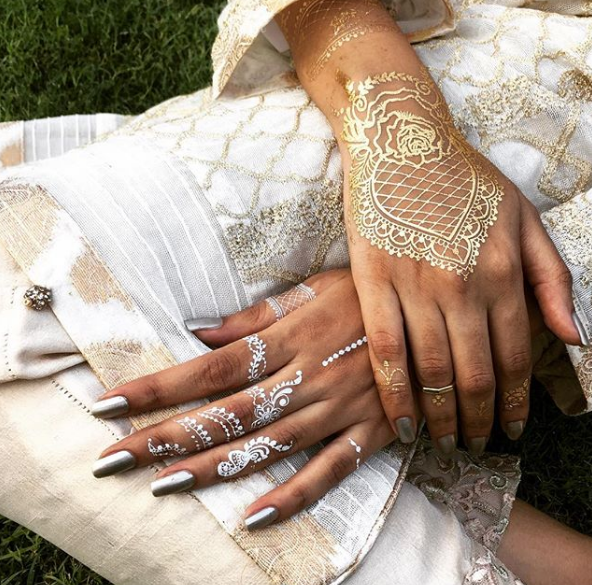 Through you, henna made it to TED talk for the first time. Tell us the most important takeaway point from your experience of delivering a TED talk?
Oh, that was such a long time ago. But definitely one of the most memorable experiences of my life. I think the most important thing I remember from it is how much your words and your work can impact other people and their lives. Speaking about mehendi, something that's so traditional and cultural for us, on a platform such as TED, with over a thousand people in the audience and millions online, I had to really make sure that every little part of my presentation and my talk was relevant, authentic and original; and something that would leave an impact on the people watching and listening.