KARACHI: The second day of Fashion Week Pakistan is pretty much the same as the first except for one thing: my confidence. I have, after all, gained a total of one day's FPW experience.
This time, I'm no longer the young, inexperienced journo questioning my choice of outfit. This time, I know better after seeing all the amazing and elaborate red carpet looks from yesterday.  This time, I'm still underdressed.
But, in style. I have paired up my Levis ripped jeans with a plain black H&M top and a zero make-up look, which I took quite literally. So, yes, I still look like someone who is coming from a full day's work … but is feeling pretty cool about it.
Learning from yesterday's experience, I have also arrived fashionably late. And with a wingman, who also happens to be a colleague. So things are looking pretty good. Fahad and I glide our way through the crowd that seems bigger than it was yesterday.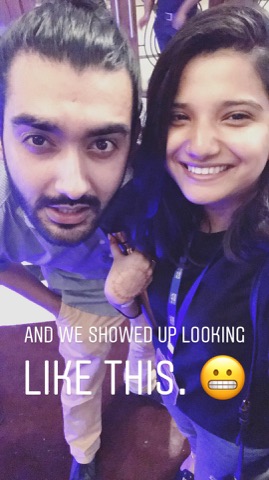 I wave hello to a few people I had seen yesterday and pull at my collar as I show off in front of Fahad. "See, I made friends yesterday," I say. He is impressed, or at least looks it. Little does he know that last night I'd asked these guys for help because my phone's battery had run out and a few let me borrow their power bank out of pity. Anyway, Fahad doesn't need to know these details.
As the night proceeds, a lot of people cut in between lines and step on our feet in an attempt to get pictures with and of celebrities on the red carpet. But we remain focused: get to know the who's who of the fashion world. The task is quite simple if you ask me. "Been there, done that," I tell Fahad. But he is a little embarrassed. Soon, however, he gets the hang of it too and we get to meet some pretty cool people namely Nadia Hussain, Hina Khwaja Bayat, and Sarwat Gilani Mirza. See, experience always counts.
There is no time to go backstage because by the time we make our way inside, the ramp is all set and the show is about to begin. We spot Tapu Javeri sitting in the best spot right across the ramp, of course. All in all, everything's looking considerably better than yesterday. Day two of FPW starts with the national anthem once again. Everyone is on their feet expect for one guy sitting in front of us.
The opening collection is by FPW chairperson Deepak Perwani. He's personally my favourite and his collection consists of mostly monochrome pieces, safe but always a classic. The next few lineups are quite forgettable, and nothing to write home (or to you guys) about. The next two collections are by Saira Shakira and Rozina Muniba. This is when Fahad and I are really feeling the music; you know something's wrong (either with us or the collections) when you're enjoying the music more than the clothes.
Next up is Boheme by Kanwal. This lineup features a lot of death stares and they've got me wondering how models manage to stare into nothingness so well? I look towards the edge of the ramp where a guy sits with headphones. He is making a lot of hand gestures so I'm assuming he is directing their walk. "Oh! That's where they're looking" I exclaim. Dimagh ki batti jal gayi. This collection is quite desi with a lot of khussas and long kurtas. But we're hoping there is a surprise at the end of it. And there you have it, singer Zoe Viccaji comes out as the showstopper and looks breathtaking. Donned in a massive gown complete with a traditional nose ring, she looks impeccable.
Nauman Arfeen is up next. The ramp is taken over by a group of handsome young men wearing traditional knee-length green, white and black kurtas. His collection is also described as having "monochrome tones". The theme music is very Pakistani 90s rock and it's getting the crowd pumped. His showstoppers truly stole the show, though. When Arfeen came out for his final bow, he is accompanied by Special Olympics champions. Everybody welcomes them with a standing ovation —  even the guy who didn't stand up for the national anthem earlier stands up.
The show continues with Natasha Kamal's lineup, which seems pretty standard, and ends with a final hurrah by AFH-Ayesha F Hashwani. All in all, the second day goes by rather smoothly. Fahad and I walk out feeling excited but also a tad bit tired. "Now I know what you meant when you said survival was difficult in this place," he tells me. "Hey, we all get by with a little help from our friends," I say as we get into our cars with hopes to come back as celebrities next year.
Tips from a seasoned FPW-goer (ahem ahem):
1) Bring a friend. It will make your life so much better
2) Arrive fashionably late unless you're getting your hair and makeup done backstage
3) Be polite and don't be afraid to approach celebrities. They're always happy to talk
4) Aspire to be like Tapu Javeri one day so you can get the best seat
5) Bring a bottle of water
6) Dress comfortably. Sometimes, the heels, the pins and the biting clothes is not worth it. Unless you're a pro
7) Most importantly, have fun and get the job done