KARACHI: Being a celebrity is no easy feat. With every move and every statement being constantly analyzed, they really have to be careful. But it seems as though some celebrities haven't really gotten the memo. Just ask Hira Mani. It seems as though the actor speaks (or rather types) way before she thinks her statements through. As a result, she is on the receiving end of a lot of backlash. Just recently, Hira Mani attracted a whole lot of anger on her statements about Dua Zehra, the 14-year-old who was kidnapped and married off under mysterious circumstances. As the internet rolls its eyes over yet another careless opinion, let us revisit some of Hira Mani's most cringeworthy, word vomit statements.
Hira Mani on Dua Zehra
Over the past few months, Dua Zehra and her case has gripped the nation. The teenager went missing after going out to throw out the trash and her parents desperately worked to find their daughter. From a dubious marriage, to false medical reports, to blatant lies being told, the case finally came down to the fact that Dua Zehra was not old enough to consent to her marriage to Zaheer.
But it seems as though Hira Mani doesn't seem to understand that Dua Zehra did not have a love story but rather was a victim. The Yeh Na Thi Hamari Qismat star took to social media to say she prays that Dua Zehra and Zaheer are never parted and she is certain God will answer her prayers.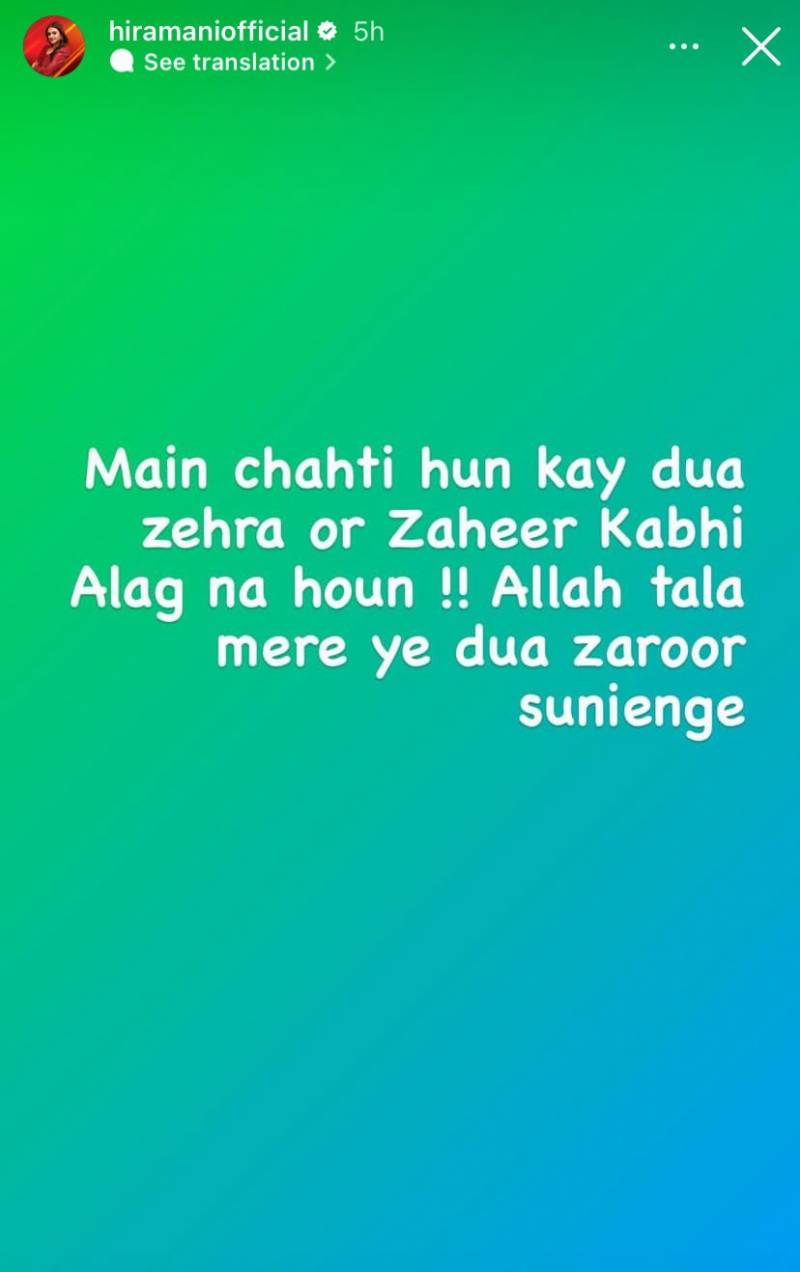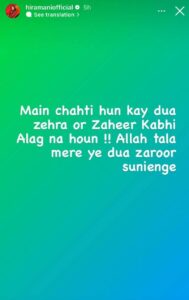 Naturally, this angered a lot of people for a number or reasons. Many demanded that her PR team be fired and her social media privileges be revoked.
In other news #HiraMani made another failed attempt to stay relevant.

What's with pseudo celebrities putting their foot in their mouth with such ease? They should fire their PR or hire social media sensitivity coaches. #ffs #DuaZehra

— San'a Mir (@sana__mir) July 25, 2022
#HiraMani and idiot celebrities like her who pander on the far-right like Sadaf Kanwal and her husband – are dangerous and ill-informed, and they don't realise the impact they have on the mass public. A lot of them need their social media accounts taken away from them. https://t.co/2ugsDtu0Ov

— Alia Chughtai (@AliaChughtai) July 26, 2022
One is often humbled when they are schooled for their uninformed opinions. But not Hira Mani. Instead, she went on to justify her previous statements in an even more aggravating statement!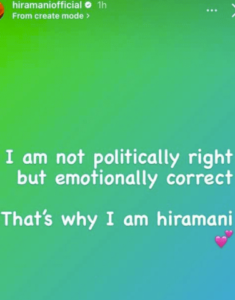 Hira Mani on Aryan Khan
Remember when Shah Rukh Khan's son Aryan was sent to jail on drug charges? The weeks that followed were a flurry of news about whether or not he will receive bail and a lot of conversation about what the real motives behind arresting Khan were. Many would have thought that no one could have been more concerned about Aryan than his parents, Shah Rukh Khan and Gauri Khan. Other than Hira Mani of course! Turns out Dua Zehra isn't the only teenager Hira Mani is deeply concerned about.
When the news of his bail broke, the actor took to social media to express her delight. And she did it in the most ambiguous ways possible that made people wonder if she was talking about Aryan Khan or if she secretly had a third kid and was announcing their arrival! She wrote, "My wonderful child has come out. Thank the Lord!"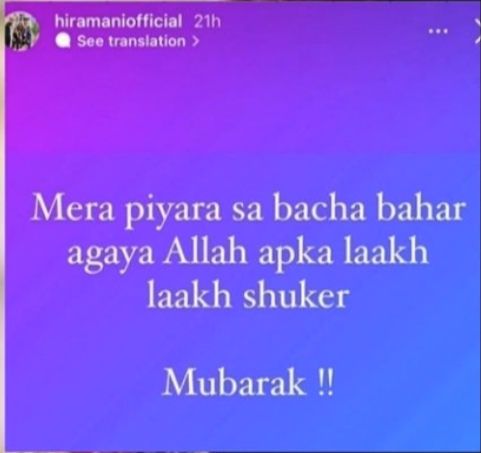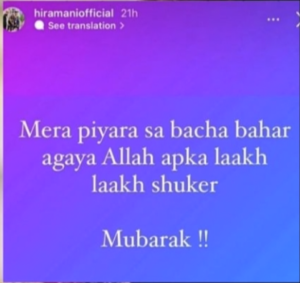 Hira Mani probably didn't think her statement through (any more than she usually does!)
Hira Mani on Mani
Listening to wives talk good things about their husbands is usually wholesome. But listening to Hira Mani talk about her husband is concerning. While there is no doubt she absolutely adores Mani, she constantly puts herself down to praise him. She keeps attributing her success to Mani and not to the fact that she has made quite the name for herself by acting in dramas.
But that's not the only problematic thing she has said or done when talking about her beloved. In an interview with Samina Peerzada, she revealed how she got hitched to Mani. With absolutely no qualms, she talked about how both husband and wife cheated on their respective partners to get to each other. While Hira was engaged to be married, Mani was dating her friend. When she found out about the relationship, being the obsessed superfan that she is, she stole his number from her friend's phone and plotted to get Mani to be hers.
Romanticizing cheating is always problematic. When Samina Peerzada invited her guests to speak their hearts out, she probably did not mean it in this way!
Hira Mani on men
If you haven't watched her dramas and you do not follow her social media accounts, then one thing you probably will remember Hira Mani by is her proclamation that men are a wonderful, misunderstood species. Yes, she actually said that!
Again, in the same segment with Samina Peerzada, the Mein Hari Piya star opened up about how wonderful men are. How they are expected to be macho and strong but in reality, they are just very misunderstood. She talked about how women talk about men and their bad habits but the truth of the matter is, we have made them out to be bad. When in fact, "mard bari pyaari cheez hai. (Men are lovely beings)"
Women were enraged with her statement because let's be honest, it's 2022 and we all know what terrible things men are capable of. They aren't bad because we put responsibility on them (which isn't even half of what is put on women) and we need to stop making excuses for them!
Whether it's Hira Mani or anyone else really, these are some valuable words of advice a Twitter user had to offer: 
Agr ap ko kuch pta na ho tw chup
Rhein.#takeYourStatementBack#hiramani

— Sana Khan (@SanaKha53125811) July 25, 2022