KARACHI: Over the past few months, the country has been gripped by the mysterious case of Dua Zehra. What began as a case of a missing 14-year-old has evolved into a very messy situation which no one can make sense of. Here is a timeline of the alleged kidnapping of Dua Zehra and all that has come to light since then.
April 16: Dua Zehra goes missing
Around 12.30 in the afternoon of April 16, 14 y/o Dua Zehra disappeared after stepping out to throw the trash. Her distraught father, Syed Mehdi Ali Kazmi, revealed that initially when the seventh grader did not return, they simply assumed she went to visit her grandmother.
"We thought, the girl had gone to her grandmother's house which is situated across the street. At 1pm, I went to her grandmother's house to bring her home but the grandmother informed that the girl had not come here. We searched in the neighborhood, but the girl was not found. Outside the house, some laborers were drilling a bore, we asked them but they too said that they did not see the girl."
Kazmi filed a missing persons report by 5pm but the police did not respond until 2 am as they were caught up in a political rally. They checked the CCTV cameras in the area but to no avail.
April 21: Ransom calls received
As the search for Dua Zehra continued, her father revealed he had received ransom calls related to his daughter's kidnapping. He revealed the details of the calls and said, "I don't have an enmity with anyone. I have received two calls for ransom from the kidnappers. One of the calls was made from a landline number, while the other was made from a mobile phone number on WhatsApp." 
The police were taken into confidence regarding the phone calls.
April 22: Dubious CCTV footage found, minor girl located from raid. Yet no sign of Dua Zehra
While the police was working hard to find the missing girl, they came under fire on two accounts. The first being that they claimed to have recovered CCTV camera footage of Dua Zehra willingly getting into a car which lead them to believe she was not a victim of kidnapping.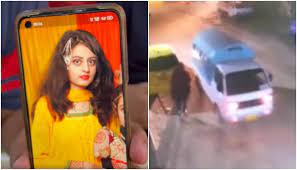 However, her parents vehemently disputed the claim and upon further investigation, it was revealed the girl in the footage was not Dua.
It was then announced that Dua Zehra had been recovered following a police raid in the Sanghar district in Sindh. However, it was later revealed that the girl was also not Dua.
The search for the missing girl continued..
April 25: Dua Zehra found alive and married
In a shocking turn of events, Dua Zehra who was believed to be a victim of kidnapping was found alive in Lahore and married to a Zahir Ahmed. Videos surface of Dua claiming that she is 18 years old (not 14) and that she willingly left Karachi to travel to Lahore to marry her husband.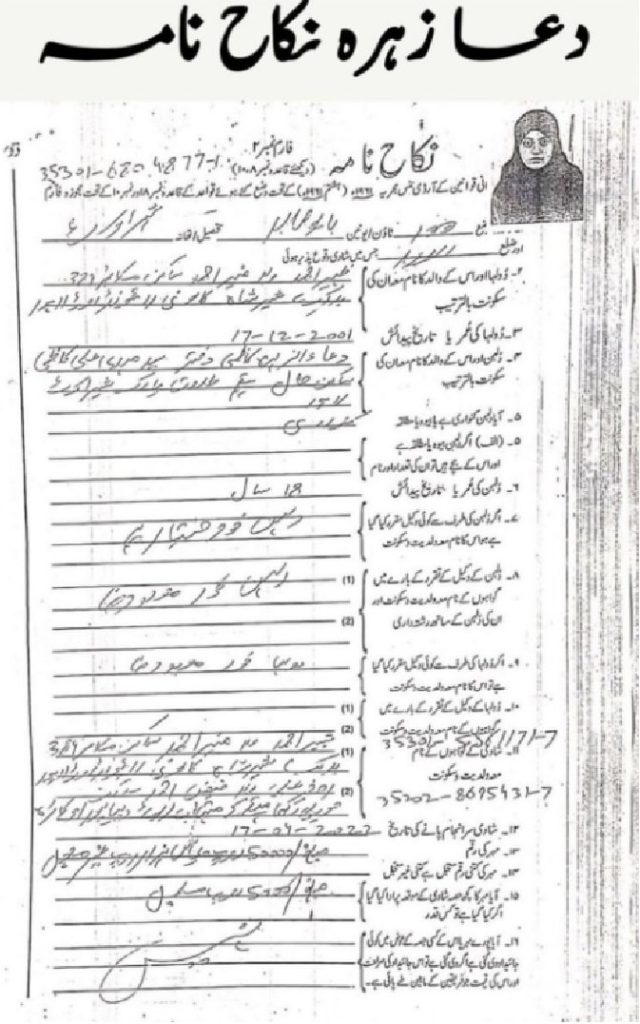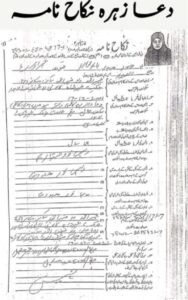 However, in a press conference, her parents vehemently denied the claims that their daughter is 18. They claimed they have been married for 18 years and so it is not possible for their daughter to be that age.
April 26: Dua presented before the court
Dua Zehra was presented before the Lahore court where the police made a request that she be placed in Darul Aman until matters became more clear. However, based on the girl's statement, the court rejected the police's request.
The statement, that was recorded in the absence of her husband, heard Zehra say that shee willingly made the journey from Karachi to Lahore and that, "I am safe, my life is not in danger."
Even more shocking was the fact that she filed a case against her father and cousin. As per her claims, "My father wanted to force me to marry my cousin Zainul Abideen. My father and Abideen stormed into my house and verbally abused and threatened me and my husband." She went on to accuse her father of trying to kidnap her.
May 8: Father continues to battle it out in court
After the court ruled that Dua Zehra was not a victim of kidnapping and that she is free to be with her husband, it was expected that her family would back off. However, her father continued to bring the matter up in court.
 

 

View this post on Instagram

 
Syed Mehdi Ali Kazmi claimed that as per all her documents including her birth certificate, Dua Zehra is a minor and thus her marriage to the 21-year-old Zahir Ahmed is illegal. He also claimed that under the shia sect and their laws, her marriage did not follow the correct protocols and thus, was void.
He then asked the court to carry out a medical examination to determine her age.
May 9: Cleric arrested
Despite the ongoing dispute as to how old Dua Zehra is, the cleric who solemnized her marriage was arrested on the grounds that the nikkah was bogus.  As per the law, the legal age to get married in Punjab is 16 and as per her father's claims, Dua was hardly 14.
May 20: Court orders police to recover Dua
The court ruled that the marriage certificate produced by Zahir Ahmed and his family is fake and that Dua must be produced before the court so that action can be taken to determine her fate.
June 6: Court orders medical tests to determine age
After Dua Zehra and her husband were recovered by the police and presented before the court, the court ordered that medical tests are conducted to determine the girl's age.
Dua maintained that the marriage was of her own free will and despite the mountain of evidence presented, she maintained that she is 18 years old. The court ordered that she be sent to a shelter home whilst tests would be conducted to determine her age. Her parents requested that they be allowed to talk to their daughter for ten minutes but the teenager refused the meeting.
June 7: Medical tests confirm Dua Zehra is a minor
To add to the mess that is the supposed kidnapping of Dua Zehra, the bone density tests determined that the girl is between 16 to 17 years of age. Her father in a press conference went on to question the accuracy of the tests and maintained his daughter is 14.
June 8: Case before the court wraps up
In an emotional scene, Dua's mother is seen crying and claiming that her daughter said that she wants to go home with her parents. 
 

 

View this post on Instagram

 
The Sindh High Court wrapped up the case with the decision that Dua Zehra could choose whether she wants to go home with her parents or with her husband and that the case is not one of kidnapping.
We are yet to hear Dua's decision.
 June 14: Jibran Nasir takes up Dua Zehra's case pro bono
Lawyer and activist Jibran Nasir announced that he will be taking up the case filed by Dua Zehra's parents, free of cost. His first step includes filing a petition before the court challenging the medical board's finding about her age.
Hon Supreme Court graciously granted our app for urgent hearing in #DuaZahra case. Hearing tomorrow at Karachi Registry. We've filed a 2nd interim relief application today seeking restriction on interviews of minor girl Dua on any media & ensuring she isn't taken out of Country.

— M. Jibran Nasir 🇵🇸 (@MJibranNasir) June 22, 2022
June 16: The Jam e Shireen interview
In yet another shocking turn of events, Dua and her husband Zaheer, appeared in an interview that was seemingly sponsered by the popular drink Jam e Shireen. The interview raised a lot of questions as Dua recalled that she made the journey from Karachi to Lahore, by taxi and without any money. She also revealed Zaheer had no idea that she had run away but nevertheless him and his family welcomed her with open arms.
 

 

View this post on Instagram

 
However, following extreme backlash over the interview and sponsorship, the brand released a statement distancing itself from the the debacle.
June 28: Medical board set up
Under Jibran Nasir, a ten member medical board was set up to conduct another inquiry into whether Dua Zehra is a minor like her father claims or is 16 like the previous reports suggested. Experts from radiology, genecology, dentistry, forensics and a pediatric endocrinologist are all added to the board to determine the important question as to her age.
Medical board consisting of 10 experts of radiology, gynecology, dentistry & forensics has been setup to examine #DuaZahra for proper age assessment. Board is requested that Dua is produced tomorrow. Prosecution today has instructed Police for compliance & informed Learned JM. pic.twitter.com/PWaZ7ClJzY
— M. Jibran Nasir 🇵🇸 (@MJibranNasir) June 28, 2022
July 4th: Medical board releases findings
According to the reports submitted by the 10-person medical board, Dua Zehra is nearest to 15 years old. Which means that under law, she is still a minor and could not consent to the marriage.
The Medical Board has verified the truth which Parents have been telling since 2.5 months. As per Board #DuaZehra is nearest to 15 yrs of age negating previous medical report which placed Dua at 17. Thus proven that NADRA documents are accurate & Dua in reality is a 14yr child.

— M. Jibran Nasir 🇵🇸 (@MJibranNasir) July 4, 2022
July 19th: Dua Zehra sent to a woman's shelter
In yet another shocking turn of events, the court has allowed Dua Zehra's application that asks that she be shifted to a shelter or Darul Aman. As per the application, she was receiving "constant threats" from her parents and on the other hand, she was "not on good terms" with Zaheer Ahmed, the person who is said to have contracted a marriage with her.
 

 

View this post on Instagram

 
As per Salman Sufi, the head of the prime minister's strategic reforms unit, the Sindh government has been "requested to dispatch a child protection bureau team to take her to her parents" and that "Mr Zaheer is being traced for arrest".
Update on #DuaZehra

Punjab Gov has secured Dua Zehra at Dar UL Aman under strict security and protection after a court order.

Sindh Government has been requested to dispatch a child protection bureau team to take her to her parents.

Mr Zaheer is being traced for arrest.

— Salman Sufi (Wear A Mask To Save Lives) (@SalmanSufi7) July 19, 2022
This is a developing story.